I'm not sure if you've noticed but Advent Calendars are not what they once were! Gone are the days where you get a measly square of chocolate behind the window each morning – although there was something rather wonderful about opening those windows, even if you did know that every window would be hiding the same thing as the day before!
But Advent Calendars have progressed … A LOT! They have turned into the most beautiful things which hold real jewellery and crystals – what more can a girl want in the lead up to Christmas?
In this blog post, we look at the best Jewellery Advent Calendars for 2021 that we could find. Despite it being December already, it's still not too late to bing-open the first few days. Some of these Advent Calendars are 12-day ones as well, so you've still got to be patient before you can begin them.
Jewellery Advent Calendars
Missoma 12 Days of Christmas Advent Calendar
The most anticipated jewellery advent calendar for the past few years seems to be the Missoma advent calendar, which sells out really early every year. Indeed, the calendar has already disappeared from Missoma's website but we did find it here in Selfridges & Co at a greatly reduced price. Normally costing nearly £400 it is now nearly half of that and contains a whopping £812 of jewellery, if purchased separately! It features 12 days of Christmas, so we're not too late for this one and it is gorgeous.
But, if you can't get the Missoma advent calendar, or you are looking for something a little bit cheaper, try one of these instead.
ASOS Design 12 Days Jewellery and Accessories Advent Calendar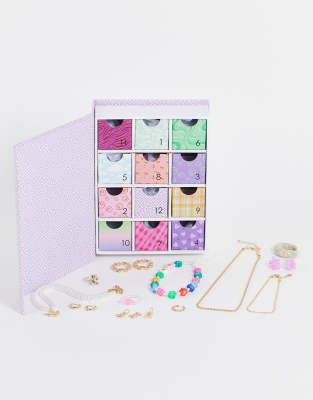 A selection of jewellery and other accessories designed by ASOS includes two hoop earrings, 3 rings, an anklet, some charms, hair claws and a necklace.
Daisy Charm Lovers Advent 2021
These stainless steel links join together, just like the Italian Nomination charm bracelets, to form a bracelet. The charms look fun to collect and will gradually build a bracelet throughout the month of December.
Philip Jones Advent Calendar with Austrian Crystals
Philip Jones Jewellery Advent Calendar features rose gold plated and silver plated jewellery which also feature Austrian crystals.
Crystal Lovers Advent Calendar
We couldn't write an article on Jewellery Advent Calendars without including one a crystals advent calendar. They may be woo-woo to some but many of us have a deep love and affection for natural and polished crystals and we found this advent calendar to be one of the best with a lovely selection of crystals in it.
To Finish…
We hope you've enjoyed having a look at these advent calendars. Despite it already being December, it's still not too late to order one for someone you love or even for yourself. What fun it will be binge-opening the first few days.
Credits:
Featured Image: Credit Depositphotos